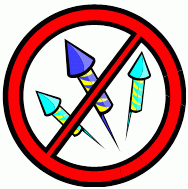 HELP!! Our fireworks caught my neighbor's house on fire! This UN-THINKABLE DISASTER could happen to anyone in our current weather conditions. Did you know fireworks start an average of 18,500 fires per year, including 1,300 structure fires, 300 vehicle fires, and 16,900 outside and other fires?
JULY FOURTH FIREWORKS ARE SPECTACULAR TO WATCH, BUT EXTREME CAUTION URGED…
As we approach the 4th of July, the City of De Leon would like to wish everyone a HAPPY INDEPENDENCE DAY and remind our residents about the dangers associated with fireworks when celebrating our great nation. In our extremely dry conditions we urge you to remember the safety of your neighbors, their children, houses, and to also keep in mind time spent by the De Leon Volunteer Fire Department and other first responders putting out fires and responding to medical emergencies this year.